Chemical Peel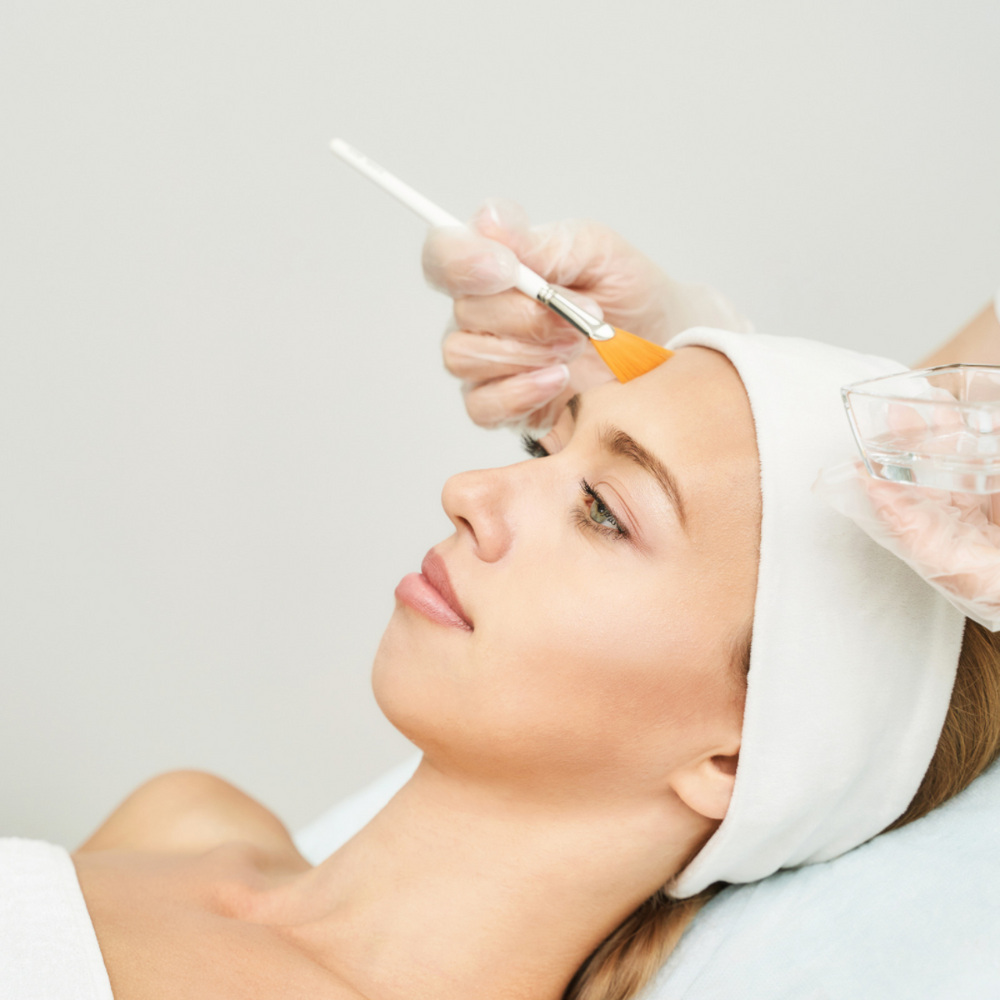 What Are Chemical Peels?
Chemical peels improve the overall appearance of your facial skin by removing the damaged outer layer, and as a result, facial blemishes, wrinkles and uneven skin pigmentation are virtually eliminated. A variety of peeling agents and formulations can be used, but the most consistent and commonly used agents are alphahydroxy acids (AHAs), trichloroacetic acid (TCA), and phenol.
What Are They Used For?
Alphahydroxy acids (AHAs),such as glycolic, lactic, or fruit acids are the mildest of the peel formulas and produce light peels. These types of peels can provide smoother, brighter-looking skin for people who can't spare long recovery periods. AHA peels may be used to treat fine wrinkling, areas of dryness, uneven pigmentation and acne.
Trichloroacetic acid (TCA)can be used in concentrations of 20% or 35% and is most commonly used for medium to deep peeling. Fine surface wrinkles, superficial blemishes and pigment problems are commonly treated with TCA.
Phenolis the strongest of the chemical solutions and produces the deepest peel. It is used mainly to treat deep facial wrinkles, areas of blotchy or damaged skin caused by sun exposure, or pre-cancerous growths.
What Is The Treatment Plan?
Various concentrations of an AHA may be applied weekly or at longer intervals to obtain the best result. An alphahydroxy acid, such as glycolic acid, can also be mixed with a facial wash or cream in lesser concentrations as part of a daily skin-care regimen to improve the skin's texture.
The results of TCA peel are usually less dramatic and not as long-lasting as those of a phenol peel, but the recovery time is significantly shorter. Since phenol sometimes lightens the treated areas, your skin pigmentation may be a determining factor as to whether or not this is an appropriate treatment for you.
Why Get A Peel?
Over time, exposure to sun, stress, and environmental aggressors can cause signs of premature aging, such as unwanted pigmentation, dull skin, and wrinkles. SkinCeuticals Professional Peels stimulate cell turnover and strengthen skin's structure to reduce the appearance of discoloration, smooth skin texture, and improve radiance. SkinCeuticals peels are also effective in reducing acne by decreasing oil and enhancing surface exfoliation to decongest clogged pores.
What Results Can You Expect To See?
Following your first treatment, skin texture will be noticeably smoother, with improved skin brightness and clarity. For most SkinCeuticals peels, you will experience minimal downtime, unlike other peels. After 4-6 peels, you can expect a significant improvement in the appearance of discoloration, fine lines and wrinkles, skin tone, and laxity, depending on your concern and peel.
How Often Should You Receive a Peel?
SkinCeuticals Professional Peels can be done once a month. For optimal results, a series of 4-6 peels is recommended, particularly for acne-prone skin or stubborn discoloration.
Why SkinCeuticals Peel?
SkinCeuticals Professional Peels are designed for maximum customization to fit individualized skin needs, and to evolve over time as your treatments and skin concerns change. SkinCeuticals Professional Peels can also be used in conjunction with clinical procedures such as lasers and injectables for complementary results.
SkinCeuticals Advanced Corrective Peel
Advanced Corrective Peel is ideal for all skin types with mild to moderate signs of aging. Works to reduce the appearance of stubborn discoloration, uneven texture, dullness, and clarity.
Skin Concern:
Mild to Moderate Discoloration
Uneven Texture
Dullness
SkinCeuticals Pigment Balancing Peel
Pigment Balancing peel is ideal for mild discoloration as a result of photodamage or hormonal changes. Works to improve the appearance of photodamage, and reveal smoother, brighter skin.
Skin Concern:
Mild Discoloration
Dullness
Lack Of Clarity
Micropeel 20, 30, and Sensitive Skin Solution
Micropeel 20, 30, and Sensitive Skin Solution are ideal for all skin types. They work to exfoliate, refine pores, and reduce the appearance of early signs of aging caused by photodamage.
Skin Concern:
Fine Lines And Wrinkles
Skin Imperfections
Dullness
Micropeel Plus 20 & 30 Solution
Micropeel Plus 20 & 30 Solution are ideal for combination, oily, and acneic skin. Works to promote skin's natural renewal process to aid in the reduction of acne, and to improve uneven texture, blotchiness, and uneven skin tone.
Skin Concern:
Acne
Uneven Texture
Blotchiness
Large Pores
The ZO Peel
The ZO 3-Step Peel is an aggressive-strength peel suitable for all skin types and colors. This innovative in-office treatment is followed by an at-home treatment that yields longer lasting results than ordinary peels.
Improves skin's ability to repair and renew for softer skin and a more even skin tone
Provides powerful antioxidants that help repair skin damage from pollution
Enhances skin's natural DNA protection
Boosts collagen for visible firming and wrinkle reduction
Supports barrier restoration