Viora Radio Frequency Body Contouring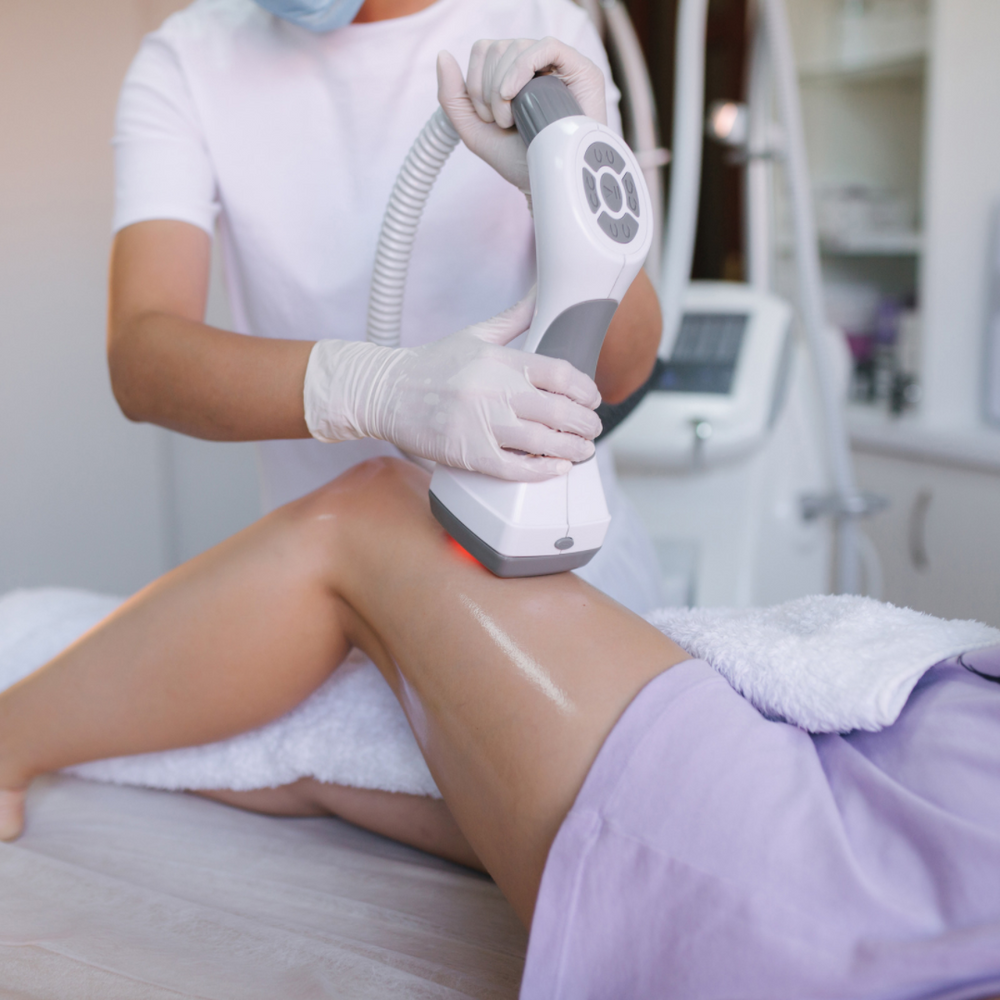 What Is Radio Frequency Your Body Dual-layer RF?
Radio Frequency Your Body Dual-layer RF Thermotherapy stimulates the production of new collagen and improves skin surface texture. Treatments with the Radio Frequency system are quick and do not require anesthesia or a prolonged recovery time. Patients can resume their normal activities immediately. Best of all, Dual-layer RF Thermotherapy provides steady improvement with excellent, long-term skin tightening results.
What Is An Radio Frequency Your Body Treatment Like?
During the procedure, we will use the Radio Frequency system to precisely heat the tissue just within your skin's inner layer (dermis). Depending on the size of the treated area, a treatment may take up to 45 minutes. Following each treatment, you can immediately resume all routine activities. You may notice a slight redness, which should disappear in less than 24 hours. Generally, no more than three to five treatments at two weeks intervals will be required.
On What Parts Of The Body Can Radio Frequency Be Used?
Dual-layer RF Thermotherapy,  Your Body treatments can be performed to treat loose wrinkled skin anywhere on the body. The procedure is frequently used to treat the thin, loose and crepe-like skin often found on the aging face, neck and under the upper arms. It is also excellent for firming skin on the post-surgical or postnatal abdomen, chest, thighs or breasts.
When Should I See Results?
Dual-layer RF Thermotherapy causes the deep structures of your skin to tighten right away; results are immediately visible. With time, new collagen develops, further tightening your skin and yielding even more beautiful, natural looking and firmer skin. While just one or two treatments can produce good results, it is recommended to do up to 6 treatments to maintain and improve your body's youthful appearance.
Does It Hurt?
While pain tolerance is subjective, most people tolerate Dual-layer RF Thermotherapy well, and have little or no discomfort. Patients often describe the sensation as a "warm massage." The risk of significant side effects is extremely low.
Reaction by Viora
Your Non-Invasive, Safe, Painless and Effective Solution for:
Body Contouring and Facial Contouring
Cellulite Reduction
Reduction of Wrinkles and Lax Skin

Are you looking for the leading firmer, tighter, younger looking skin? Reaction can give you what you're searching for!
Reaction uses the most advanced RF technology, developed by Viora's highly experienced research team, to ensure that your treatments are quicker, safer, with no pain or downtime.
• What is the Reaction device?
Reaction is a non-invasive, safe, effective device combining the use of radiofrequency (RE) energy and vacuum to provide treatments for ST, cellulite reduction, and body contouring & facial contouring.
• How does Reaction work for ST treatments?
RF energy heats the dermis and stimulates collagen synthesis to strengthen existing collagen fibers for significant improvement in skin laxity, sagginess and texture. The ST procedure uses a built-in cooling mechanism and applied cooling gel for maximum comfort.
• How does Reaction work for body contouring and cellulite reduction treatments?
RF energy targets enlarged fat pockets to reduce fat cell volume and increase the metabolism while the vacuum mechanism increases local blood circulation and lymphatic drainage. Treatments are simple and comfortable and resemble a deep tissue stimulation combined with gentle suctioning of the skin.
• What areas can be treated?
Reaction can be used to treat the entire body, including face (jowls, cheeks, brows, forehead, nasal labial area), neck, décolleté, underarms, stomach, buttocks, and inner and outer thighs.
• How long do treatments take?*
Depending upon the body part and specific treatment being done, Reaction sessions can be between 15 – 40 minutes.
• How many sessions are needed?*
Each treatment course depends upon the body part and specific treatment being done. Recommended number of sessions for body contouring and cellulite reduction is between 4-8 sessions while skin tightening treatments can run between 3-5 sessions. ReLift and ReFit have special protocols that may differ in total number of treatments.
• Is the treatment safe?
Reaction treatments are safe, effective and have no adverse side effects.
• Following a treatment when can I resume my daily activities?
Reaction treatments are completely non-invasive with no anesthesia necessary. There is no downtime at all following a Reaction treatment – you can continue your usual routine directly upon leaving your treatment session.
* Number of treatment sessions required, and final results, may vary per patient.